We are a Creative flying car manufacturer
Industry :Aviation & Aerospace
"Disrupting the Aviation & Aerospace Industries. Vinata Aeromobility is developing a fully autonomous flying car. We have expertise in the following areas that have influenced our one-of-a-kind vehicle: vertical take off and landing (VTOL), quad- copters, unmanned aerial vehicles (UAVs or "drones"), automotive design, future mobility, hybrid systems, aerospace, aviation, urban air mobility, transportation, and logistics.
"To be more safe & Sustainable fast commuting thus reducing hours into minutes through Advance Aeromobility."
"FOUNDER, CEO & LEAD DESIGNER"
Yogesh Iyer (Yohg CAS Iyer) always loved cars and airplanes more than anything. With an ethos of "Know Your Follow it. Dream it. Love it," and more than 15 years in product design, development, and manufacturing, he is is living out his passion through Vinata Aero- mobility."
Ever since a young boy, Yogesh Iyer ( Yohg CAS Iyer ), Founder of VINATA Aeromobility, loved cars and flights more than anything. The young fanatic followed his passion and blindly listened and believed his inner voice. His love for cars and flights later transformed him to become an Entrepreneur. With the ethos of, 'Know your passion. Follow it. Dream it. Love it', his passion and solution-oriented mindset has persuaded him to create a dynamic platform that seeded to kick-start VINATA Aeromobility.
Having 15+ years of Experience in New product design ,development and Manufacturing . 
Yohg CAS Iyer,CEO & Founder
We have a dynamic and genius team to serve you
CFA ( Emirates) - VINATA Aeromobility
30 + years of Experience in a Finance advisory background in the Middle East region for various Family offices and oil& GAS companies with a diversified portfolio. Passionate about creating products more user-centric and user experience go hand in hand, highly problem-solving skills, and enjoy working with multi-disciplinary teams.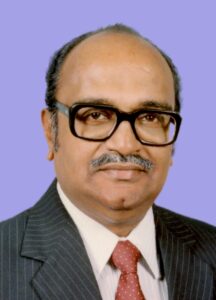 PRINCIPLE ADVISOR - VINATA Aeromobility
DR A. E. Muthunayagam is a leading Space Scientist in the ISRO and the chief architect of Rocket propulsion in India. He was responsible for the creation of Liquid propulsion System Centre. For his significant contributions to the development of Propulsion Technology in India, he is known as the father of propulsion technology in India's space program. He chose to return to India from the NASA for the development of propulsion technology in the Indian Space Research Organisation
 Experienced 28 year Air Force veteran (Colonel, USAF, Retired – Active TS/SCI Clearance – 25 active duty/3 federal civil service – and internationally recognized subject matter expert in UAS/UAV/UAM/UTM/AAM/eVTOL/sTOL – law, policy and regulation. Possesses deep military and civilian expertise and experience. Record of success leading organizational change, including developing organizational vision and implementing the policies and procedures required to achieve that vision, within available resources and in a continuously changing environment.
Embracing Technology for a Better Tomorrow. Several urban air mobility start-ups have emerged globally, but there are still exists a gap for sustainability, user con- venience, and hassle-free integration into traditional transportation systems in cities.
Vinata Aeromobility is at an initial stage of development under DGCA Guidelines . the Prototype of Flying car expected to be launch in 2023.  The Flying car is expected with more futuristic and integrated Artificial Intelligence touch panels, Avionics and other IoT features and is expected to fly with a range of 100 km.
Our autonomous flying hybrid car is aerodynamic, electric hybrid, luxurious, user friendly, sustainable and affordable. Our vehicle has integrated artificial intelligence touch panels, advanced avionics and other IoT features. It is expected to fly with a range of 150 km. We are at the initial stages of development under DGCA  Guidelines and will reveal our prototype at 2023